Time Travel Series Part I - Social Responsibility of the University
Social Responsibility of the University - An Authentic Perspective from the Students
 
Author(s): The instructor and enrolled students of Introductions to Leisure and Recreation at the Tamkang Univeristy Lanyang Campus
 
The instructor:
How come college students at the Tamkang University Lanyang Campus would rather give up their time with family and friends than go to Atayal aboriginal communities that are 67-kilometer away and present the Christmas play to everyone in the communities? What valuable lessons have you learned from the preparations for the play?
 
Students' Feedback:
 
Ms. Chen has reiterated the importance and necessity of the Christmas play we were about to perform on the aboriginal festival, and showed us the snapshots of the previous performances and how the performances were met with warmest welcome from the communities. That's when I came to realize this is something that really matters.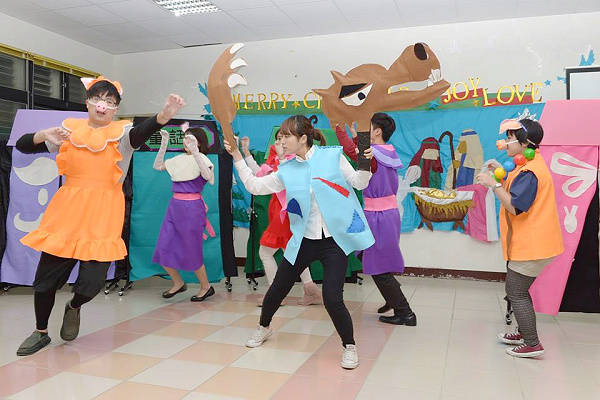 103-1 A Student Cross-Cast the Mother Pig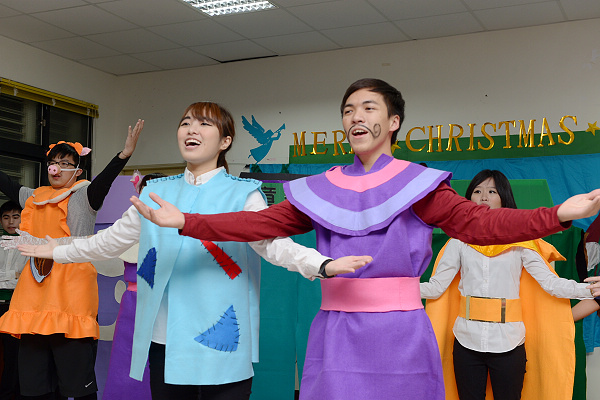 103-1The Previous Director of the Fencing Club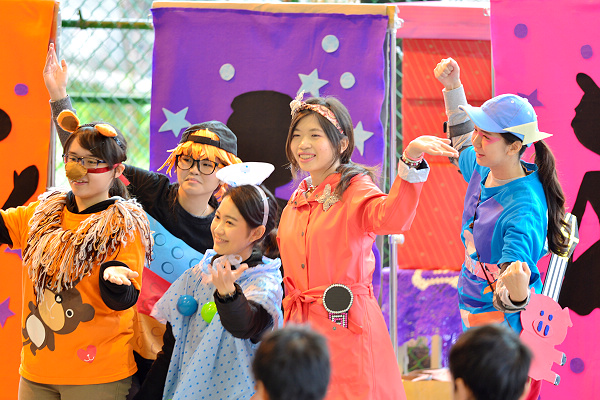 105-1 A Shy Student Performed Lively on Stage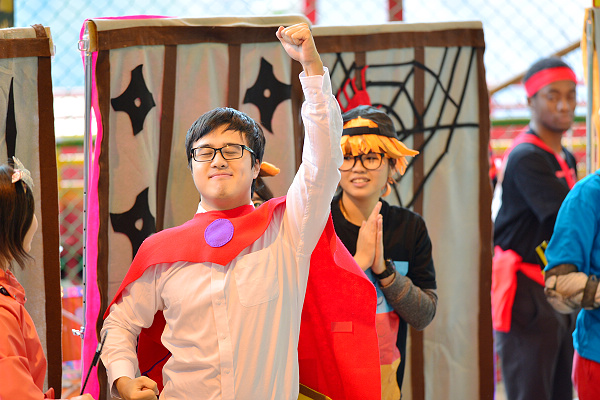 105-1 The Confession Made by the Legendary Leading Actor 
We have seen many performances done by previous students and their presentations were mind-blowing. I couldn't believe my eyes when I saw one introverted acquaintance of mine turned out to play an outgoing and lively character in the play. It was also surprising to see a cool and macho student would be willing to cross-cast as a Mother Pig. What's more, I also realized the vice director as well as the previous director of the Fencing club were also part of the performance. Speaking of the previous director, he participated in the National Intercollegiate Athletic Games on behalf of Tamkang University when he was a senior and won a silver medal in the game of fencing. He took part in the play when he was a sophomore. At that time, he couldn't really juggle schoolwork, fencing practices, as well as rehearsals. He once thought of giving up midway, but later he decided to push on and accomplish the great feat with everyone together. And he made it. Seeing the images of the past four years, I really admired their hard work. They all represented the Morning Star Theater at the Tamkang University and now the baton is passed to us. If you ask me what I'm feeling right now… I will say I felt it incumbent to be part of it! (LOL)

I am a senior and I will graduate very soon as long as I don't fail this course (LOL). I am not a Christian. During the past twenty years of my life, every Christmas, whether home or abroad, seemed to be the same to me: having dinners, going to parties, exchanging gifts, and that's all. What does Christmas mean to me? On Christmas, I did nothing for others, nor did I expect others to do something for me. But this time, I joined the team and presented the 40-minute play on behalf of the school to the aboriginal communities. In fact, I had yearned to take this course when I was a sophomore (I mean it). Truth be told, I was VERY touched… For the very first time, regardless of what sacrifices I had to make, I worked with the instructor and my peers, making this special Christmas "present." When kids in the communities saw it, their eyes shone with sparkles and their emotions synchronized with the characters in the play. In the end, they even came to me and took a photo with me. That's when I realized what it feels to love others and be loved unconditionally. I will definitely remember this feeling for the rest of my life.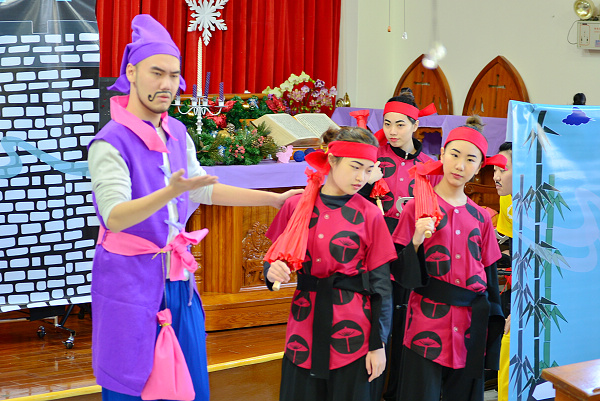 106-1The Previous Director of Rock n' Roll Club (Nickname: Ge-Ba) 
I major in Department of English Language and Culture. I was kind of shy in the beginning because I didn't know anyone in class. The role I played in the drama was a beggar, who just had to sit on the floor for most of the time. Therefore, compared with other performers, I felt it was a breeze and I had made the right decision to take on this role (LOL). Also, in the play I was very nasty and thus usually ignored and disliked by others. When I was found by a master who accepted me and taught me skills. I was transformed into a successful man. A cliché plot like this was surprisingly able to move one of the audience down stage. Was it because the plot was touching or simply because I nailed this role? Anyways, I was touched at the end of the play as well! I think the wonderful journey I experienced is is what the instructor call as "drama therapy." 
​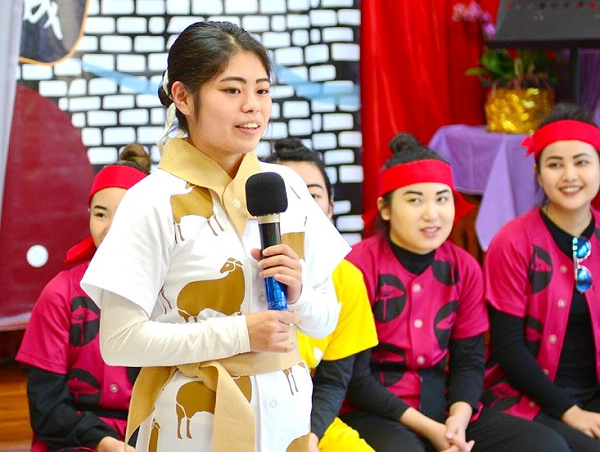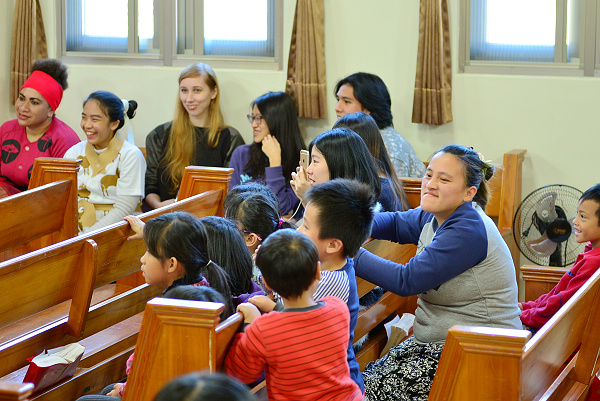 I was the Master in the play. When the instructor was introducing every character in this quasi-kungfu drama to all of us, I told myself, "Well, since you are going to play in the drama, then choose the most challenging one." So I chose to play the Master in drama. It turned out that the lines and moves were extremely a lot. Another reason for I picked the Master is that I am a member of the Dance Club. Common dance moves are a breeze to me. But this time, the moves are the combination of Chinese kungfu and dances. This is something I have never done before and I kind of enjoyed it a lot, especially the instructor asked me to demonstrate how to do "Bai-he 9 Moves" as the Master and teach all of the spectators how to do it. Seeing everyone do the moves, some kids even do them very seriously, I felt genuinely delighted as if I were actually an old Shifu myself. This feeling might be strange to a college student, but is a memorable experience for me. 

(An International Student from Japan)

It is too bad that my Chinese is not good enough. But I am glad to be part of this team and performed to the indigenous people in Taiwan. For an international student from Japan, it was very special to me. I got to know a village where part of their history is related to my country.  I mean that soldiers from Japan came here and managed these people about 100 years ago…… On the other hand, I am glad to learn about Chinese Kong-Fu through this play. I didn't expect these two experiences before I studied at Tamkang University. 

I was responsible for the sound control and was with all performers whenever they rehearsed. (I was hard-working, I know right!) Even though I was not one of the performers who were acknowledged by the audience by the round of applause, I still felt a great sense of achievement when these performers who were doing a pretty lame job in the beginning had to rely on my recording of narration to do the lip sync. Just to be clear, I am not that kind of person who feeds on other's applause (roll my eyes), but I am truly happy that we made it and that I made the right decision to be part of all this.
​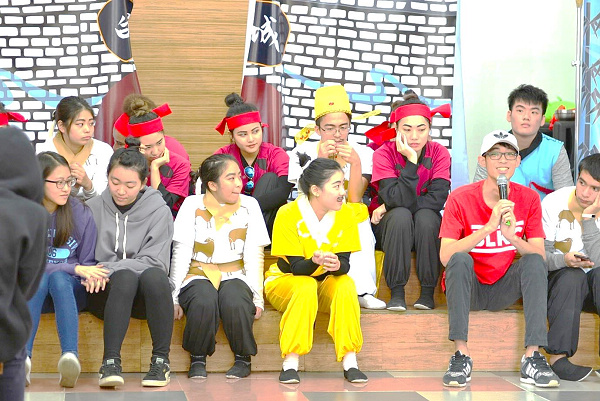 I am the student director. I chose to be the director because I used to perform on stage for many times and this time I wanted to try working behind the scenes to challenge myself. I love to coordinate things for others and I found that I am pretty good at it. So this time I really had a great time throughout the process. The play had four scenes with six songs. The length of the play was a bit longer than previous years. I heard from the instructor that the number of performers this year reached an all-time high with the number of international students being the most as well. Because of this, I had to communicate through both English and Chinese, and keep an eye on everything related to the play. When performers were performing, many might see a crazy person gesticulating crazily at the back and using cellphone to send orders to the backscene workers. Yeah, that's me! (LOL) I think this is the best part of being a director. I was very proud of every one in the team and I felt as if I were the conductor in the orchestra. I saw the improvements made by each performer, and how everyone became more and more connected with each other. I was grateful to those who were shouted by me in the beginning and they were willing to … And I agreed with one of the students' opinion. It's ok to postpone the time we spent with our family and friends but the opportunity to celebrate with people in two communities once in blue moon. We were able to celebrate Xmas with them through the play, feasts, and parties. Some moments were even holy to us. (Many students nodded in agreement with smiles)。 
​​​​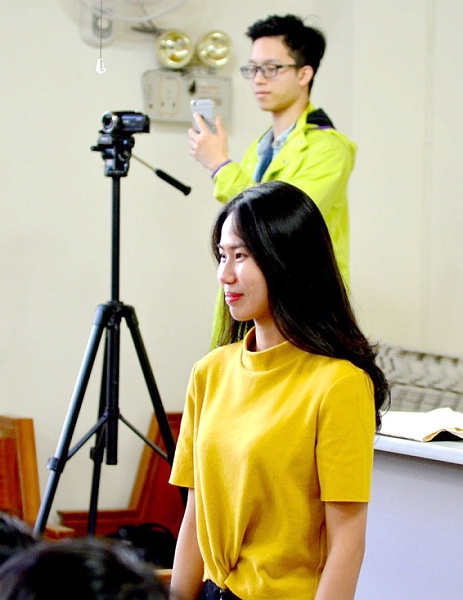 The story of the Morning Star Theater at the Tamkang University Lanyang Campus is not over yet. Stay tuned to Time Travel Part II…